i mean seriously, what a dayyyy... okok.. actually hari ini bermula dengan gembiranya.. perfect je its like
...hahaha.. bermulanya after anta PO tadi. after quite a great day of BEL~ omg!!! aku puji BEL.. mane tak nye...
1. masuk kelas
2. anta PO
3.dengar dia membebel sket (tdo2 sket)
4. bace poem.
then orang yang lancar bace 2-2 poem boleh balik..
cakap sape yang tak suke abes BEL sejam awal????
then bermula lahh disaster!!!
oklah, to be exact bermula lepas beli Char KUey Teow.
ni tengok2...
1. beli Char Kuey Teow... pastu apetah pekerja endon tu buat.
senget benget kuey teow aku.
sudah lah tu abes tumpah semua kuah char kuey teow tu.

2. jalanlah enn. nak balik bilik ni. excited la kunun nak mkn awal.
pastu dalam aku asyik nak betulkan kedudukan char kuey teow tu.
tetibe nazurah and syara nampak air kuey teow tu menitik2...
PLASTIC BOCOR!!! what the tuttt!!! nak je aku buang semua tuh..
tapi aku fikir UMMI JANGAN MEMBAZIR.
3. miserable gila rasa nak jalan dengan beg berat. fail ditangan.
aku rase macam budak 10 tahun nak balik umah 2 km dari sekolah.
pfffffttt

4. ok dah makan da ni. dengan kuey teownye kembang. memang kembanglah tekak aku makan.
adoooiii. naseb mak aku ajar aku baik punye bab membazir.
kalau tak kenyang da tong sampah kat Delima ni. chaaiittsss!
aku pun minum air... ntah MALAUN mane agaknye ngumpat aku.
bad timing sungguh. gatal tekak ok.
TERSEMBUR AIR... gila sakit!!!
basah bantal poluk aku.. hurm!
OMGGGG.
terus selsema aku!
huh!!
tapi highlight sikitlah dekat sini... TADI I SENYUM KAT EncikOrangTua.
hey, big deal okay.. first time senyum kat dia in public! haha
UMMI...AWWWW! ahaha
cutenyeCUTENYEcutenye
okayyy.. aside from my story nak cter sket.. even my friend pun had quite a bad day.
starting from her PO. i dun noe what happen but one thing for sure after printing disaster
nak edit pun tak boleh...
dia kata hari ni dia kena BALA!!!
wahahahahaha..
tapikan pkpk balik my 'naseb malang' mule after seeing her back at dc..
ADOIIII SYARA ape yang kau pass kat aku ni????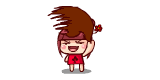 pffft