DAY 2 :) the reason behind my blogger name.
sebenarnye aku pon tak clear sangat mane satu blogger name. pinkdotsribbon ke najlaa lala aku tu???
pastu aku kene ni...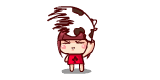 jadi... oh
najlaa lala
lah kan... kate
blogger
name bukan
blog
name... =.='
why???
najlaa lala??
my name is
UMMI NAJLAA
. ummi sounds sooo simple right? so, mostly people call me
ummi
instead of
najlaa
. hanya beberapa orang je panggil aku najlaa. macam... sedara belah ayah and dua tiga orang kawan aku.
entah kenapa aku lebih senang kalau orang panggil aku najlaa. i
like
that name. take note!
aku bukannya benci nama ummi tu tahu
. just itukan panggilan untuk ibu.
and because of that... orang end up
calling me mama/mak/ibu for almost two years
. rasanya starting second sem kat maktab (KKB) until form 5.
aku okay je lah. but sometimes yes i do get annoyed. percaye lah my friends...
DAMSELS 5
tahu how annoyed i am. (oh ye ana mercury.. its 5 because ini group masa dekat maktab dulu kayh.)
pastu kadang-kadang
aku rasa awkward
gila if ada orang yang bukan sedara panggil aku
najlaa
.

takpatot
kan???
so, aku sengaja lah letak nama blogger ni
najlaa
.
lala
pulak??
ade je kat page aku. sebab
aku suka nyanyi melalak dalam bilik
. and my voice is seriously not for everyone to hear!!! hahahaha
thats all peeps!
:)